FREE bi-annual
Northern California fishing forecast
Thu Oct 25 2012 | 9:56:20 PM | Northern California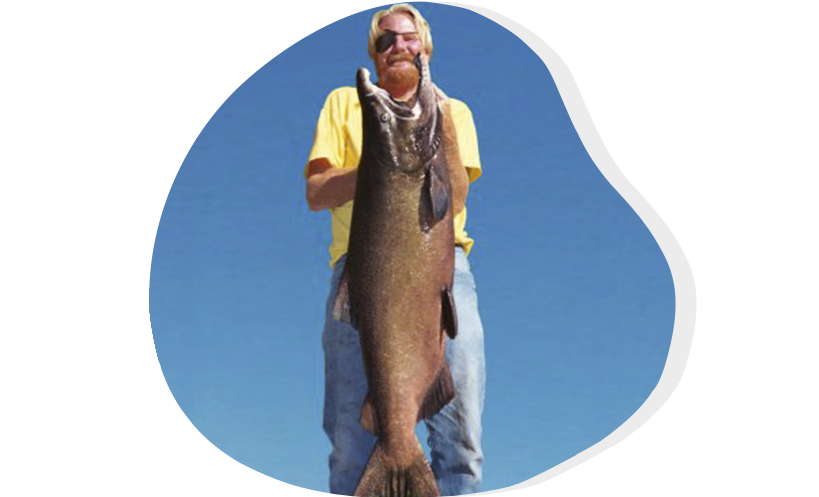 Forthcoming Hot Fishing Seasons
| Species | Mar 22 | Apr 22 | May 22 | Jun 22 | Jul 22 | Aug 22 |
| --- | --- | --- | --- | --- | --- | --- |
| King Salmon (Lake) | | | | | | |
| Steelhead (River) | | | | | | |
| White Sturgeon (River) | | | | | | |
| Striped Bass (River) | | | | | | |
| Brown Trout (Lake) | | | | | | |
| Spotted Bass (Lake) | | | | | | |
| Crappie (Lake) | | | | | | |
| Blue Gill (Lake) | | | | | | |
| | | | | | | |
| --- | --- | --- | --- | --- | --- | --- |
| Species | Mar 22 | Apr 22 | May 22 | Jun 22 | Jul 22 | Aug 22 |
| King Salmon (Lake) | | | | | | |
| Steelhead (River) | | | | | | |
| White Sturgeon (River) | | | | | | |
| Striped Bass (River) | | | | | | |
| Brown Trout (Lake) | | | | | | |
| Spotted Bass (Lake) | | | | | | |
| Crappie (Lake) | | | | | | |
| Blue Gill (Lake) | | | | | | |
Sacramento River Fishing Report
Steelhead, Trout, Sturgeon, and Stripers
With ample water on the Sacramento River and Lake Shasta this year, here in Northern California, during the next several months, I will be fly, cast, and spin fishing. 
If you'd like to book a Steelhead, Trout, Sturgeon, or Striper Trip, please be sure to reserve your dates as early as possible.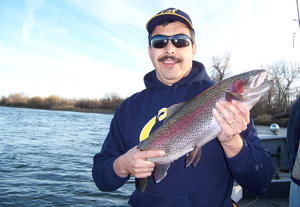 Javier holds a beautiful 23 inch Steelhead caught on March 11, 2007.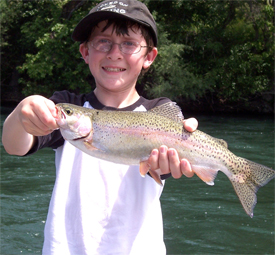 Tyler caught this pretty 13 inch trout, on April 28, 2007
California Trout Fishing
A year round peak fishery, Trout are marauding and jumping at every little bug or fly they can spot. They're searching for every new hatch. The water shows they exhibit, with their dazzling aerobatics, make them even more fun to catch and release by the absolute bushel. Expect a barrel of fun, and some beautiful fish! The upper river remains good for both fly and spin anglers. 15 to 25 fish per day for trout is the norm, with the fish averaging 11 to 25 inches. For spin fishing, try glow-bugs, hot-shots, or crickets. For fly-fishing, try nymphs. In the evening, try a cattis, or an occasional stone fly.
If you're looking for productive fishing time over the next several months, and beyond, you'll find it here in Northern California, on the Sacramento River.
Shasta Lake Fishing Report
The Spotted, Largemouth, and Smallmouth Bass in the Lake remain good all year, but certain times of the year are better than others. The pre-spawn in the Spring of course, but the Fall fishing can be Dynamite! It's the time of the year when the fish will be gorging themselves on food to build up fat to see them through the Winter.
The Bass during the colder part of the year, will be on the deep side, 40 – 50 feet, held up in their Winter condos, and can be caught as deep as 90 feet in some cases, depending on the day. As the weather warms through April and May, the fish will start coming up shallower. Right now, your best baits will be plastics and jigging spoons. As the weather begin to warm, rip baits, spin baits, and plugs will come more into play.
For Trout and Landlocked Salmon, troll deep right now, 30 – 60, and as the weather turns warmer, you will have to go deeper, as you want to stay in the cooler water. Try slingblades with your offering trailing behind. Minnow baits, humdingers, coconuts, cripple lures, and wiggle hoochies. These fish are going to be a bit scattered, so be flexible, and cover some water. When you find them, stick on them, and "Have a ball!"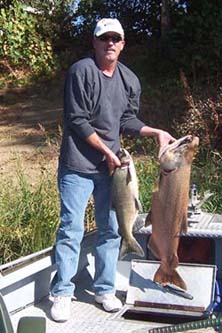 Sacramento River Fishing Forecast from January through December 2011
I will be fishing Trout, Steelhead, and even some Smallmouth Bass, on the Sacramento River. Along about March, and April, the Stripers will start making their way into the River, and later on in May through June, and beyond, the Shad will be striking a fishing line near you!
For Trout and Steelhead, try rubberlegs, any stonefly imitation, and pupas under an indicator. Spin fishermen, try hotshots, crickets, or small mepps. For Salmon, try kwik-fish, long spinners, or roe.
Now here is a blast from the past! After years of shortened Seasons, the King Salmon Season will begin in mid-July, and run through mid-December, as DFG predicts about three quarters of a million fish returning to the river system for your line stretching pleasure.
Shasta Lake Fishing Forecast from January through December 2011
With Shasta nearly full, the fishing will be Hot! The Bass are in their regular hot tubs this time of year, and the Trout and Landlocked Salmon have nowhere to hide, and when we find their Parade, it's going to be a Fish Bath!
From March through June, the Trout and Landlocks will be returning to their deep water hangouts, but the Bass will be on the prowl in the shallows, and the best part is… I'll be fishing for all of them!
For Landlocked Salmon, Trout, and Bass Trolling at 30 – 100 feet is the call for Landlocked Salmon and Trout. The Bass will be between 40 – 70 feet deep, and shallower as the weather warms.
The Bass Fishery peaks in April through September, but remains good all year around. Find the thermo cline, and have yourself a ball! The Landlocked Salmon Fishery will remain good the rest of the year, and the Trout Fishery remains good all year around.
Good Luck, and Tight lines to all!