is a member of the Northern California Fishing Guides and Sportsmen's Association. He is known for his friendly and courteous manner. Ken's River Pirate Guide Service is licensed, bonded, and insured.
Ken Hoffman, has over 30 years experience fishing the Sacramento River watershed and knows it thoroughly. He enjoys showing you the best fishing Northern California has to offer. Ken works hard to make sure you relish the thrill and pleasure, sport fishing in Northern California.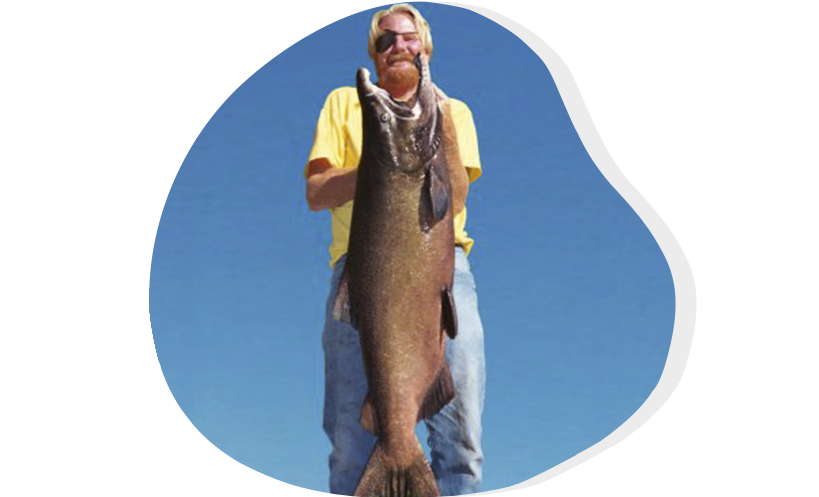 Sacramento River Fishing Guide
Ken Hoffman's love for fishing began at the age of four. His keen sense for reading the water comes from years of experience.
The Sacramento River watershed's constantly changing water levels peak and recede in annual cycles. Ken's resonance with these rhythms give him the ability to pinpoint the best time and place to fish. And that translates into productive fishing.
Whether you are a beginner or a seasoned angler, Ken enjoys helping you experience a memorable day fishing in Northern California on his speedy riverboat. He makes an all-out effort to put you on fish, share his techniques, show you how to use the equipment, and guide you through the fight.
California Steelhead Fishing Guide
The seasoned angler knows that the true test of skill is steelhead fishing. These fish are like ghosts, darting from cover to cover. These Anadromous Rainbow Trout are bursting with brute strength. Pound for pound, they will outfight any fish in the Salmonidae family. 
An oceangoing trout, Steelhead come into the river system to spawn then return to the ocean to repeat the cycle, and return as larger fish. A very smart fish, they keep you on your toes. Steelhead will try to break your line by maneuvering it into snags and various other places. Their acrobatic leaps to shake the lure get your adrenaline pumping.
If you are going to Northern California to steelhead, then Ken is the fishing guide you need. Steelhead fishing is one of his passions. He can teach you the skills you need to hunt them down and land them.
Northern California Bass Fishing
With 47 lakes in its 114.14 mile perimeter and 780.6 river and stream miles, Northern California's Sacramento River watershed is a bass fisherman's paradise. Four species of bass populate the waters here: Largemouth, Smallmouth, Spotted, and Striped bass. The waters are just teeming with bass.

      It takes knowledge of the lake's underwater structures and habitat to get on top of fish and skill to entice them to strike. The River Pirate's single trip record for Largemouth bass is 40 fish. The guide service's record for Stripers and Smallmouth is 30 fish. For Spotted bass, their single day record is 60 fish.
Northern California Salmon Fishing
History reports a time when salmon runs were so thick you could walk on the backs of fish to cross the river. Those days are long gone, but through careful conservation and restoration projects, the life blood of the river flows again with more impressive salmon runs each year. The pride of California rises to challenge the great Columbia River as a fisherman's dream.
The state record 88 lbs. Chinook salmon was caught in the Sacramento River. The fall run is the best time of the year to angle for these highly spirited fish.
If you can't make the fall run, the lakes have numerous landlocked Kings. The freshwater Kings are not as large as their sea-run cousins, but getting on top of a school of these fish is a kick in the pants.
Ken's love of nature, wildlife and all animals is another of his special qualities. He might even take your pet along on some of his trips. His motto is: "When my clients are having a good time and catching fish, then I'm happy too!"
In ancient times when the earth was young
When streams and rivers had a chance to run
Swift and free to the raging sea, as the water caught the sun
It flowed so smooth thru the mountain fields
As it served as a home for the mallards & teils
Over the falls the water did crash
And its great pools was the home of the bass
Always in beauty it flowed to the sea
Always in beauty and always so free
But now it is damned and polluted by man
As it makes its way to the sea and the sand
When I see what we've done, I shed a tear
And when I think, I begin to fear
For without water, where would we be
Without water, there would be no you or me
So think of this poem when you visit a lake, river, or stream
And please, oh please, make it your dream to keep it clean