Sacramento River Fishing Season
Sacramento River Watershed 
From the high country of the Trinity Divide, the headwaters of the Sacramento River include numerous tributaries. Its three main forks stride down from alpine slopes gaining girth and grandeur as streams and creeks converge into it. At the Sacramento River Delta, the watershed empties 31 percent of California's total water runoff into the San Francisco Bay.
In its 384 mile journey, the mighty Sacramento River feeds Lake Siskiyou, Lake Shasta, and the Keswick Reservoir. At Lake Shasta, it is joined by the McCloud River, the Pit River, and Squaw Creek. The picturesque river pays its passage by filling the wells of towns like Mt. Shasta, Dunsmuir, Keswick, Redding, Red Bluff, and Corning.
Sacramento River Fishing Reports
The River Pirate brings you the most current Sacramento River fishing reports and more. If you're looking for a proven fishing guide who can put you on fish, then come to Northern California and fish with Pro-Guide Ken Hoffman on his powerful jet boat. Experience a guided fishing trip only a Master Guide can provide.
Sacramento River Fishing Guide
Few basins rival the Sacramento Valley's fish biomass density. Its rivers and streams are measured in thousands of fish per mile. While its reservoirs are gauged in tons per square acre.
The water levels of the Sacramento River watershed change constantly, peaking and receding in annual cycles. This flux is both seasonal and man-made. Knowledge and experience of these rhythms can mean the difference between a productive fishing trip and a waste of valuable fishing time. Having someone who can pinpoint the best time and place to fish is what makes guided fishing so much more productive than spending your years on trial and error.
The River Pirate's Pro-guide, Ken Hoffman, has over 30 years experience fishing these waters. Ken knows this watershed thoroughly. As your Sacramento River Guide he enjoys showing you the best Sacramento River fishing experience. Ken makes an all-out effort to put you on fish and works hard to make sure you relish the thrill and pleasure of sport fishing the Sacramento River.
Sacramento River Fishing
History reports a time when Salmon runs were so thick you could walk on the backs of fish to cross the river. Those days are long gone, but through careful conservation and restoration projects, the life blood of the river flows again with more impressive Salmon runs each year. The pride of California rises to challenge the great Columbia river as a fisherman's dream.
The California state record 88 lbs. Chinook salmon was caught in the Sacramento River. The fall run is the best time of the year to angle for these highly spirited fish.
The striped bass found in both the Sacramento River and the Feather River are a salt water species that come into fresh water to spawn. Striped bass are vicious and powerful fish and would like nothing more than to rip your line right off the reel. Attacking almost anything that looks like food, these marauders have been known to grow up to 75 pounds.
Sacramento River Fly Fishing
An ocean-going trout, Steelhead come into the Sacramento River system to spawn then return to the ocean to repeat the cycle, and return as larger fish.
Steelhead are very smart fish. They keep you on your toes through tricks like trying to break your line by maneuvering it into snags and various other places. Their acrobatic leaps to shake the hook will get your adrenaline pumping and your heart pounding.
Rainbow Trout are battlers and are highly prized game fish for fly fishermen. They are wary fish and can be finicky about what they will take or mistake as food.
When you latch on to a Rainbow Trout in shallow waters, they will go airborne immediately. Their acrobatics can be spectacular and numerous as they try to dislodge your offerings from their mouths. These aren't your lethargic Southern California variety, a hard-fighting fish, specimens up to 19½ pounds have been caught.
With Ken's years of experience, he can tell you what patterns to bring and what the hatches will be.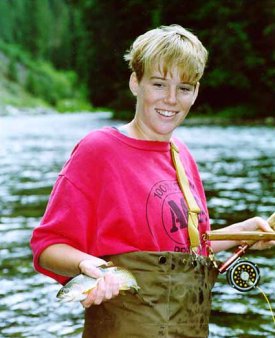 Rainbow Trout are a highly prized game fish for fly fishermen. They are wary fish and can be finicky about what they will take or mistake as food. They will go airborne immediately if they are hooked in shallow waters.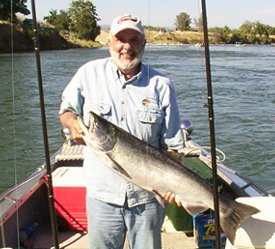 The River Pirate Guide Service will bring you the most current Northern California, Sacramento River fishing reports and more.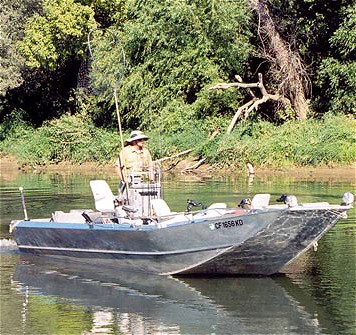 The Vicki Ann, a jet sled, is a very stable and comfortable fishing platform. With 25 roomy feet, this boat handles a party of 6 with ease.
Sacramento River Cruise
Your Pro-guide Ken Hoffman is in tune with the wilderness around him. Captivate yourself as he points out and explains wonders that may have escaped you. He will explain the significance of sights and events that only years of patient attention affords.
Immerse yourself in the beauty seen only from the perspective of the riverman. Revel in the history and culture of the Northern California lakes and rivers as you relax in the comfort of his roomy Design Concepts jet boat.
Sacramento River Boat
The Vicki Ann is a 25 foot, center console, river sled built by Design Concepts. This aluminum fishing boat is powered by a 460/380 HP Engine and a Berkley Jet.
When you go fishing in the Sacramento River, the Vicki Ann is the boat to fish in. She has fully cushioned and convertible pedestal seats making you feel as though you're in an easy chair. The Sled Design makes the boat a very stable and comfortable fishing platform. With 25 roomy feet, this boat handles a party of 6 with ease.