Sacramento River Salmon Fishing Season
| Jan | Feb | Mar | Apr | May | Jun | July | Aug | Sep | Oct | Nov | Dec |
| --- | --- | --- | --- | --- | --- | --- | --- | --- | --- | --- | --- |
| | | | | | | | | | | | |
| | | | | | | | | | | | |
| --- | --- | --- | --- | --- | --- | --- | --- | --- | --- | --- | --- |
| Jan | Feb | Mar | Apr | May | Jun | Jul | Aug | Sep | Oct | Nov | Dec |
| | | | | | | | | | | | |
Lake Shasta Salmon Fishing Season
| Jan | Feb | Mar | Apr | May | Jun | July | Aug | Sep | Oct | Nov | Dec |
| --- | --- | --- | --- | --- | --- | --- | --- | --- | --- | --- | --- |
| | | | | | | | | | | | |
| | | | | | | | | | | | |
| --- | --- | --- | --- | --- | --- | --- | --- | --- | --- | --- | --- |
| Jan | Feb | Mar | Apr | May | Jun | Jul | Aug | Sep | Oct | Nov | Dec |
| | | | | | | | | | | | |
Northern California Salmon Fishing
In the hunt for the elusive King Salmon, fishermen have journeyed far to the north. Yes, Alaska salmon fishing and Canada salmon fishing are legendary. Others have tried hunting for Chinooks in Oregon and Washington. A little known secret by a handful of anglers is about to be revealed. Some of the most productive King Salmon fishing happens in a small nook in Northern California around the towns of Redding and Anderson.
What is this mystical watershed? The Sacramento River. The "Sac" (as locals fondly call the Sacramento River), stretches 384 miles and drains a third of California's water.
History reports a time when Salmon runs were so thick you could walk on the backs of fish to cross the river. Those days are long gone, but through careful conservation and restoration projects, the life blood of the river flows again with more impressive Chinook Salmon (King) runs each year. The pride of California rises to challenge the great Columbia river as a fisherman's dream.
Sacramento River Salmon Fishing
The California state record 88 lbs. Chinook salmon was caught in the Sacramento River. The fall run is the best time of the year to angle for these highly spirited fish.
The King Salmon Fishing Season opens July 16th on the lower Sacramento River, and August 1st on the upper Sacramento River as they arrive is small numbers.
The Chinook Salmon (Kings) arrive as though they were an invading force advancing in their chrome silver armor. These scouts strike out at Kwick Fish and lay waste to roe that get in their path. Even in the little time these sluggers spend in fresh water, their teeth grow and the strikes can be vicious.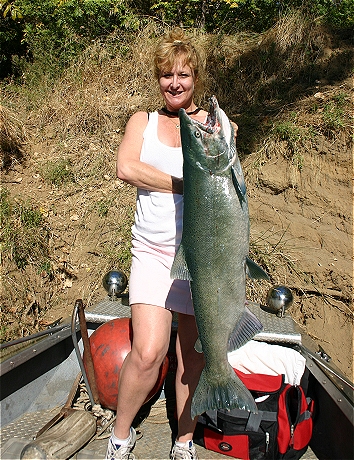 Oct 12, 2005 Jacqueline Bottè with a nice 38 lbs hen. "To the other lady anglers out there, you too can catch a fish without smearing your mascara. I landed this fish moments before this actual shot was taken." – Jacqueline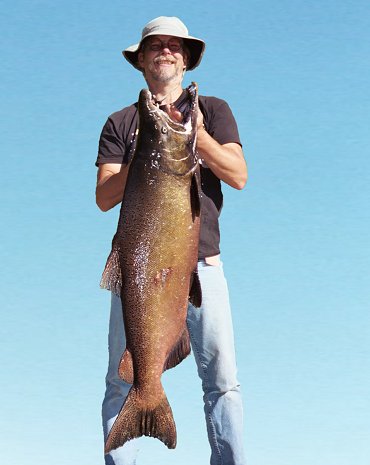 Oct 19, 2003, Ted Johnson boats a beautiful 40 lbs hen, one of 18 fish kept during his 4 day game fishing vacation.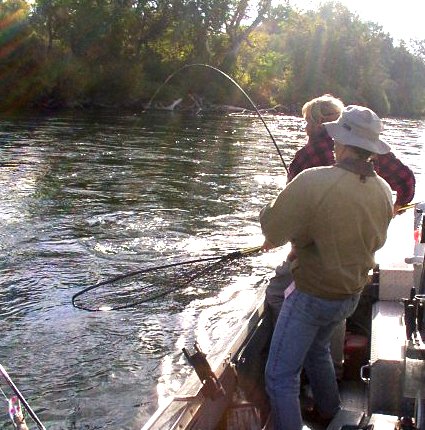 Oct 19, 2003, Ted Johnson boats a beautiful 40 lbs hen, one of 18 fish kept during his 4 day game fishing vacation.
Beginner or Pro to Salmon Fishing?
When salmon migrate up fresh water rivers and streams, the males develop a humped back and an upturned lower jaw called a kipe. Both male and female's jaws become more boney. Because of this, hooks are not always set and many fish can easily spit it by rolling or head wagging.
It is possible to land a big game fish not knowing any technique. More often, it is due to a lot of luck.
It takes skill and graceful technique to consistently boat an angry salmon. There is more to it than just pumping and reeling. Like what to do when that slugger goes under the boat, starts wagging its head, or is about to spool the reel. It takes poise to guide the fish to your side of the boat.
If you're a beginner or a pro wanting guidance, your Pro-guide Ken Hoffman will be happy to teach you the techniques and help you hone your skills. He can coach you through the fight, from the initial hookup, through the middle and end game. He will teach you how to guide a fish to the waiting net, and improve your hookup to catch ratio.
Sacramento River Salmon Fishing Guide
The Sacramento River watershed's constantly changing water levels peak and recede in annual cycles. This flux is both natural and man-made. Knowledge and experience of these rhythms can mean the difference between a productive salmon fishing trip and a waste of valuable fishing time. Having someone who can pinpoint the best time and place to fish is what makes guided salmon fishing so much more productive than spending your years on trial and error.
The River Pirate's Pro-guide, Ken Hoffman, has over 30 years' experience salmon fishing in the Sacramento River basin. Ken knows the watershed thoroughly and will enjoy showing you the best fishing Northern California has to offer.
Get out on the water! Snag the fish of your life, this will not be the one that got away! And don't feel like the city is keeping you trapped with subdvision bonds Remember the fish are calling!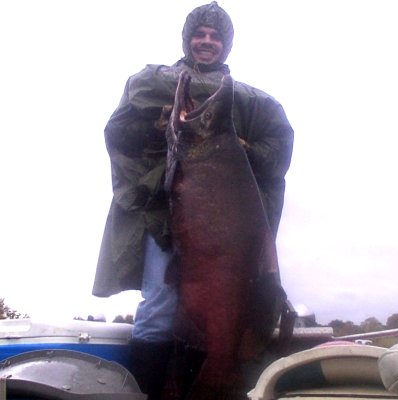 Nov 15, 2003, Fireman, Gilbert Nuñez of Santa Maria, CA breaks the River Pirate Year-To-Date fishing record with a 52 lbs King Salmon on his very first Salmon Fishing trip.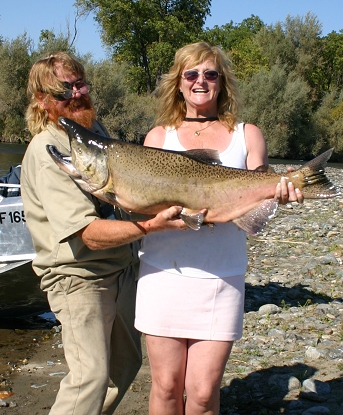 Oct 13, 2005, Jacqueline Bottè lands her trophy 40 lbs. buck she named "Buster". "He nearly pulled my good arm out of it's socket"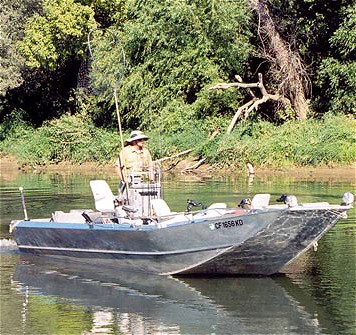 Your Master Guide, Ken Hoffman, will be at the boat ready and waiting for you. All the tackle and gear will be prepared for your fishing day.