Sacramento River Striper Fishing Season
| Jan | Feb | Mar | Apr | May | Jun | Jul | Aug | Sep | Oct | Nov | Dec |
| --- | --- | --- | --- | --- | --- | --- | --- | --- | --- | --- | --- |
| | | | | | | | | | | | |
| | | | | | | | | | | | |
| --- | --- | --- | --- | --- | --- | --- | --- | --- | --- | --- | --- |
| Jan | Feb | Mar | Apr | May | Jun | Jul | Aug | Sep | Oct | Nov | Dec |
| | | | | | | | | | | | |
Northern California Shad Fishing 
Spring was coming… our favorite time of year. We began to plan a family getaway, something we would all enjoy. After we searched through the brochures of places to go and things to do, we decided on Northern California shad fishing. We all loved to fish, and although we had never fished for shad before, I had heard that shad fishing was the best for family fun. We chose the River Pirate Guide Service on the Sacramento River, even though we had never been to Northern California before. A friend told me that the area was beautiful, that Ken was the best guide on the river, and that the fishing was fantastic. I can tell you now, my friend told me the absolute truth!
Our trip began on a beautiful spring morning in the third week of May. My wife, our two children and I got up early so we could be ready and waiting when Ken came to pick us up. The kids dozed a little while we drove and I pumped Ken for information about Northern California shad fishing, the bait, this year's run… everything I could think of. When we arrived at the Sacramento River, he made sure that the boat was in order, the children were fastened safely into their life-vests, and that we had everything we needed. Then he launched the Vicki Ann and we started up river. My little girl was barely six, but she had started fishing when she was only three. Despite the cool morning, she was flushed with excitement and could hardly wait for the fish to bite. In only a few minutes from our launch, Ken found the first hole and we could see the shad crowding together. I was still getting my line ready, when my little girl felt the first tug on her line and started yelling, "Fish On!"
Sacramento River Shad Fishing
That was only the beginning of our day for fishing Sacramento River shad. Things just got better and better as the day wore on. Even my little one-year-old boy was pumped by the excitement and wanted to get in on the action. He wasn't ready to battle a shad; they fight like a much larger fish. When his sister had a good one reeled in, I let him feel the weight of it in his hands. He was content with that and went back close to his mother's side to watch. He giggled when he got splashed and laughed out loud every time his sister hooked another one. My children were having the time of their lives!
Time had past while my wife and I had been watching the children, and enjoying the scenery and wildlife. It was time for us to fish too! Even then, there was my little girl ready to net every fish we were pulling in. We sure kept her busy! As our day came to a close, we had a total of fifty fish come to the boat. This was truly the greatest family fishing trip we've ever had. We're all looking forward to coming back for Sacramento River shad fishing with the River Pirate next year!
– Danny Fisher, and Family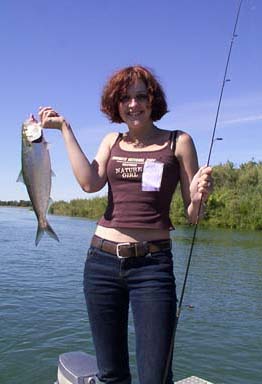 Natalia is smiling, holding her shiny Shad catch from the Sacramento River.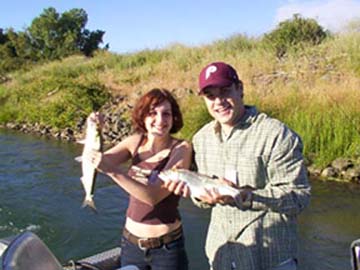 Jared and Natalia together, holding their first Shad, on a trip with Ken, on the Sacramento River.
Late Spring through Early Summer Shad Fishing
The Shad Fishery begins in mid-May, peaks in June, and remains good until early July. Although it is not a long fishing season, it is surely one that you won't want to miss. Many anglers have said, "We've had the time of our lives, while fishing for Shad on the Sacramento River… the catching is non- stop.
Known as the poor man's tarpon, the American Shad has a life cycle much like a salmon. They're members of the herring family and are tons of fun to catch. Although they only grow to about six and a half pounds, you'll think you are fighting with a much larger fish.
They will truly test your equipment. Many eight pound test lines have been broken by a three pound Shad. These are schooling fish and are usually caught in great numbers. They can be found in the Sacramento River, as well as others in Northern California.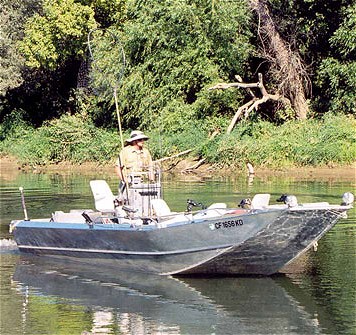 Your Master Guide, Ken Hoffman, will be at the boat ready and waiting for you. All the tackle and gear will be prepared for your fishing day.
Sacramento River Trout Fishing Guide
The Sacramento River watershed's constantly changing water levels peak and recede in annual cycles. This flux is both natural and man-made. Knowledge and experience of these rhythms can mean the difference between a productive steelhead fishing trip and a waste of valuable fishing time. Having someone who can pinpoint the best time and place to fish is what makes guided trout fishing so productive.
The River Pirate's Pro-guide, Ken Hoffman, has over 30 years' experience trout fishing in the Sacramento River. Ken knows the river thoroughly and will enjoy showing you the best trout fishing Northern California has to offer.