Sacramento River Striper Fishing Season
| Jan | Feb | Mar | Apr | May | Jun | Jul | Aug | Sep | Oct | Nov | Dec |
| --- | --- | --- | --- | --- | --- | --- | --- | --- | --- | --- | --- |
| | | | | | | | | | | | |
| | | | | | | | | | | | |
| --- | --- | --- | --- | --- | --- | --- | --- | --- | --- | --- | --- |
| Jan | Feb | Mar | Apr | May | Jun | Jul | Aug | Sep | Oct | Nov | Dec |
| | | | | | | | | | | | |
Northern California Striper Fishing
My mind wandered as I sat in my office, peering out the window. My long-awaited vacation was coming soon and I'd be traveling to Northern California. Yep, I was dreaming of fishing on the beautiful Sacramento River. I had made the reservations for me and my two young sons, and they were as anxious as I was.
When the 3rd week in April finally came, we were packed up for the trip North, and were soon on the road. The trip was good and our hearts pounded with anticipation as we moved closer to our destination. We knew the Stripers were in and we could hardly wait! At last we were there. The hotel accomodations were great, though it was hard to sleep because we talked about fishing until I had to force the boys to go to bed. Ken was there for us bright and early the next morning. Now, I thought… the fun would really begin.
We drove out to the river and the morning air was cool as we boarded the Vicki Ann. Ken guided us through the safety instructions and then we cast off onto the river. It was better than I had dreamed and the boys were so excited, they couldn't stop talking! As the boat glided along the water there was so much beauty to behold. A bald eagle swooped so close to the boat that it almost took our breath away. I tried to follow it out of sight with my eyes, but the boys were already seeing fish… lots of fish. This was it! Ken had the lines out and suddenly two of the rods bent hard! The boys were the first to grab them, and then it was pure pandemonium!! I can't describe the joy in their eyes; it was like Heaven to be on this river. As the fights went on, Ken was ready to help the boys in any way he could, but he always allowed them to bring in their own fish.
By afternoon, the day grew warm and comfortable, and it seemed as though the fun would never end. Eventually, we realized that the sun was beginning to set. So we ended our day by watching the gorgeous sunset. This trip couldn't have been better and I'm so glad that I chose Ken as our Guide. All I can say is… we can't wait to come back again!
Charles Enbrooke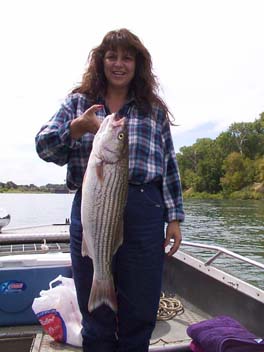 This gal is thrilled with a beautiful striper catch! Stripers are at their peak from April to June.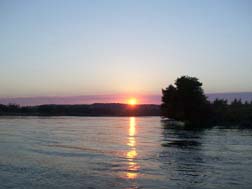 The sheer beauty of a Sacramento River Sunset, will always remain in your memory.
Sacramento River Striper Fishing
The Striped Bass is a saltwater species that comes into freshwater to spawn. To watch them spawn is amazing. They do not make a nest. Instead they spawn on the surface. Sometimes when you are just sitting, quietly fishing, you might suddenly see fish everywhere around you.
Striped bass are also vicious and powerful, and would like nothing more than to rip your line right off the reel. They'll attack almost anything that looks like food and have been known to grow up to 75 lbs. They are found in both the Sacramento River and the Feather River.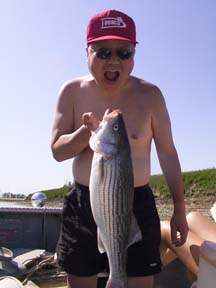 This happy angler holds a silvery striped bass, caught in the Spring of 2004.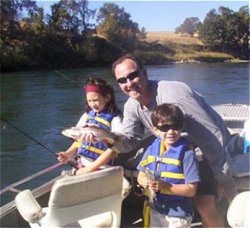 Oct 26, 2003, Tom Dawson and his kids, Tommy and Anna. Tom landed 2 Salmon, while Tommy and Anna boated 8 trout.
Beginner or Pro to Trout Fishing?
Trout are aerobatic fish. They leap and walk on water to dislodge or "spit" the hook. As they mesmerize you they are also enlarging the hook's hole. Play them too long and you will loose them. "Horse" them and you snap the line.
It takes skill and graceful technique to consistently boat these highly prized game fish in numbers. There is more to it than just reeling like crazy.
If you're a beginner or a pro wanting guidance, your Pro-guide Ken Hoffman will be happy to teach you the techniques and help you hone your skills.
He can coach you through the fight, from the initial hookup, to the waiting net, and improve your hookup to catch ratio.
Sacramento River Trout Fishing Guide
The Sacramento River watershed's constantly changing water levels peak and recede in annual cycles. This flux is both natural and man-made. Knowledge and experience of these rhythms can mean the difference between a productive steelhead fishing trip and a waste of valuable fishing time. Having someone who can pinpoint the best time and place to fish is what makes guided trout fishing so productive.
The River Pirate's Pro-guide, Ken Hoffman, has over 30 years' experience trout fishing in the Sacramento River. Ken knows the river thoroughly and will enjoy showing you the best trout fishing Northern California has to offer.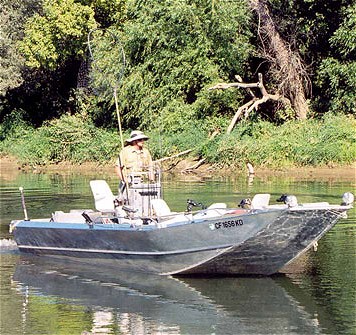 Your Master Guide, Ken Hoffman, will be at the boat ready and waiting for you. All the tackle and gear will be prepared for your fishing day.